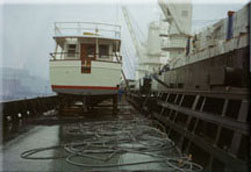 AMI specializes in surveys of recreational vessels as well as a variety of yacht surveys including:
Insurance damage
Prepurchase conditions

We are also experienced with the mechanical operation of yachts and recreation vessels and various propulsion systems consisting of inboard/ouboard stern drive. We are familiar with diesel-powered and gasoline engine systems. With this experience and knowledge, we are able to determine cause of engine failure in most cases.

Our reports are detailed and describe damages to the internal engine components as well as hull damage. We also review repair estimates and assure they are in accordance with present market pricing.